Installing and setting up Polkadot extension
If you already used and have been familiar with Polkadot-js extension, you can skip this step and move on.
Polkadot extension can be downloaded and installed on Chrome and Firefox, the application for iOS and Android, which might be developed in the future. For the purposes of this tutorial, we'll use the Chrome version, but the instructions will be more or less the same for every browser.
Firstly, you'll want to head over to the Polkadot-js Download page. From there, select whichever platform you're using, and follow the steps to install it on your browser. Easy!
Next, click the icon of Polkadot-js extension on the top right corner of your browser. If this is a first time you use Polkadot-js then you should read notes then go ahead and click "Understood, let me continue".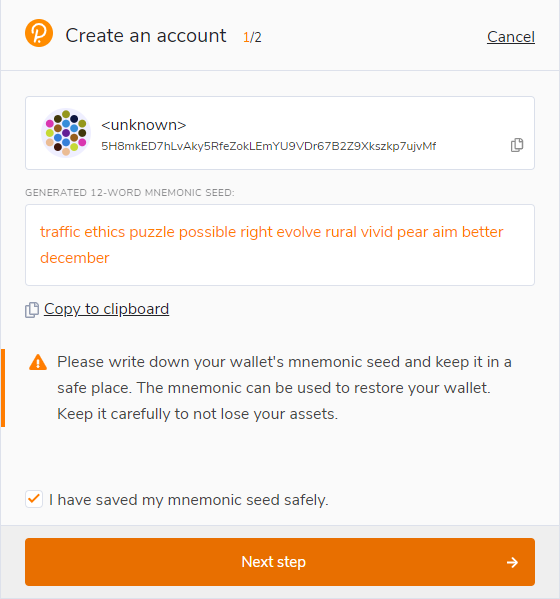 The big circle with a blurry background will appears if you don't have any account yet. Click on the circle and polkadot-js will create an account for you and your mnemonic seed will appears. Write it down and store it somewhere safe. Tick on the "I have saved my mnemonic seed safely" and click the orange button "Next step".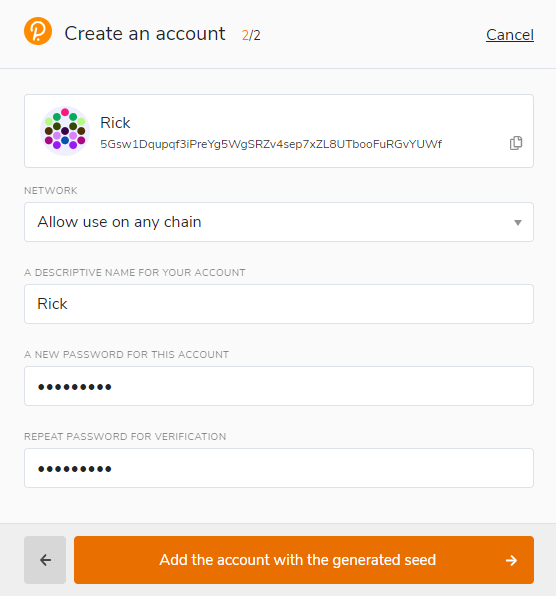 Type in your descriptive name for your account and password for it. Finally, click on "Add the account with the generated seed".
And that's it! You should now see your wallet, ready to send and receive funds.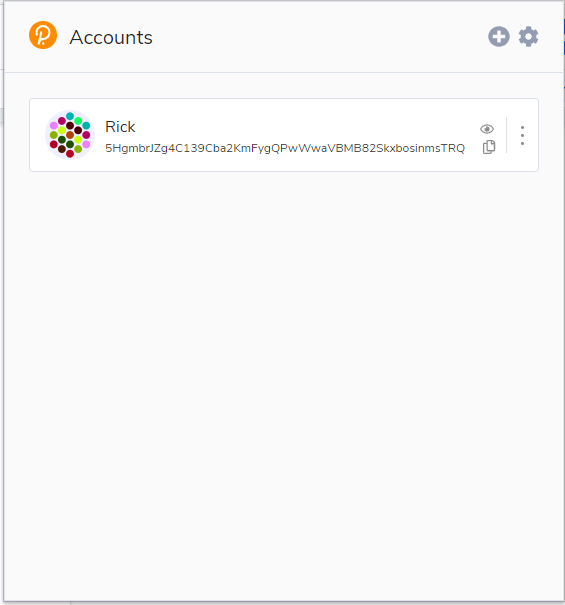 The freshly-initialized Polkadot-js extension.
Sign in account for Subsocial
Access Subsocial application webpage HERE. Polkadot-js extension will pop up a new small window telling you that SubSocial is requesting access. Click on "Yes, allow this application access".
ALWAYS DOUBLE CHECK THE INFORMATION BEFORE YOU ALLOW ANY APPLICATION TO ACCESS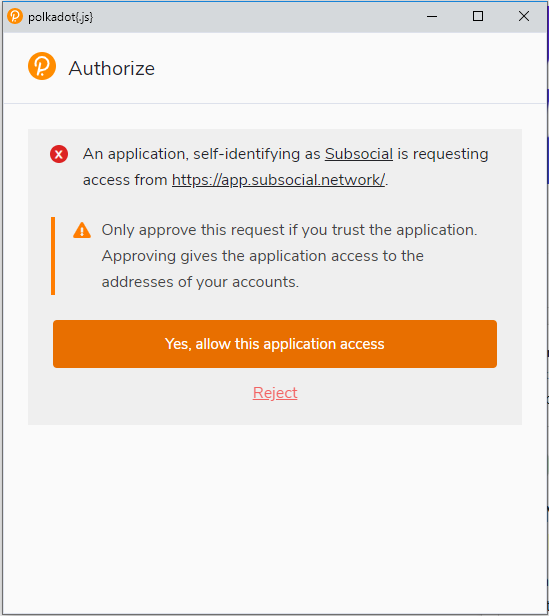 This window will disappear after you allow Subsocial to access. Next, click on the pink "Sign In" button. After that, a list of accounts in your extension will pop up, click on the one you want to choose.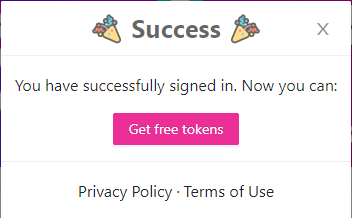 Boom, You have successfully signed in. You should get some free token because every action on Subsocial requires tokens.
Receive Free Subsocial Token (SMN)
Click on the "Get free tokens" button. You will be forward to Faucet webpage of Subsocial. It look like this: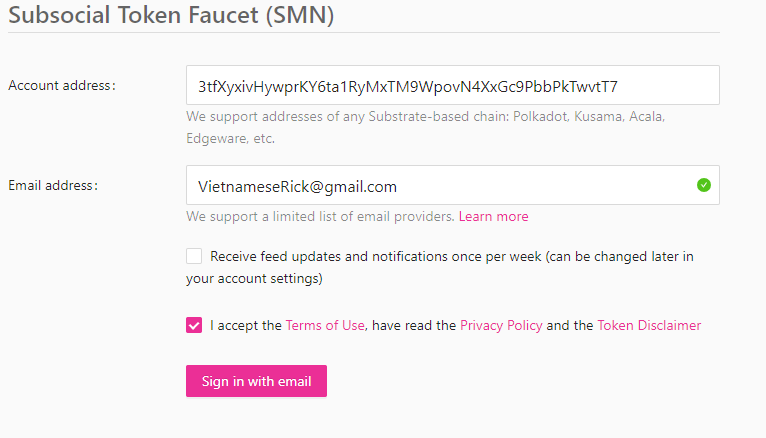 Your account address will be automatically typed in. The one you should care about is the "Email address". Input your email address then tick on "I accept the Terms of Use, have read the Privacy Policy and the Token Disclaimer" box. The first box is optional, you can untick it if you don't want to receive feed updates weekly.
Finally, click on "Sign in with email" button. One confirm email from Subsocial will be sent to your email address. Check it and follow the instruction and you will receive free SMN token for activities on Subsocial platform.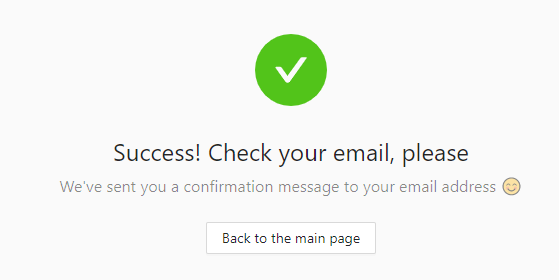 Closing thoughts
Subsocial is a set of Substrate pallets with web UI that allows anyone to launch their own decentralized censorship-resistant social network aka community. You can think of it as a decentralized version of Reddit or Medium, where a set of subreddits or blogs on Medium run on their own chain. Subsocial will be a perfect piece of Polkadot on its way making Web3.0 dream come true.